People places & miscellany - What's happening: folk music news & information - Grammy Awards, other folk music awards and news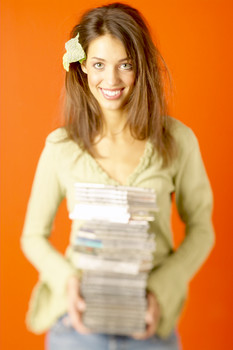 We'd like to congratulate all of this year's Grammy winners. The folk music community was really well represented at the Awards show as the winners were spread out over a broad range of categories. The biggest winner of the entire evening was the soundtrack to the Cohen Brothers' O Brother Where Art Thou?, capping an amazing evening for folk and roots music at the event. The soundtrack won five awards: Album of the Year, Male Country Vocal (Ralph Stanley), Country Collaboration With Vocals (Dan Tyminski and The Soggy Bottom Boys), Producer of the Year (T Bone Burnett), and Compilation Soundtrack Album. Congrats to T Bone, engineer Mike Piersante and the entire musical cast.
Other Grammy winners included: Alison Krauss + Union Station--Best Country Performance By A Duo Or Group With Vocal, Best Bluegrass Album; Verdell Primeaux and Johnny Mike--Best Native American Album; Earl Scruggs and Friends--Best Country Instrumental Performance; The Blind Boys Of Alabama--Best Traditional Soul Gospel Album; Carlos Vives--Best Traditional Tropical Latin Album; Ravi Shankar--Best World Music Album; and Tom Chapin--Best Spoken Word Album for Children. For a complete listing, you can go to <www.grammy.aol.com>.
We'd like to offer special congratulations to our own Elijah Wald on his Best Album Notes Grammy Award for the Arhoolie Records 40th Anniversary Collection: 1960-2000 The Journey Of Chris Strachwitz. Elijah is also the author of Josh White: Society Blues (University of Massachusetts Press), and Narcocorridos: A Journey Into The Music Of Drugs, Guns, And Guerrillas (Rayo/HarperCollins). You can check out his feature article in this issue on Charley Patton on page 46.
Congrats are also due to another regular Sing Out! scribe, our good friend and colleague Mike Regenstreif, (see his article on Bruce Cockburn this issue on page 34). On April 27, Mike was presented with an award from the Yellow Door Coffeehouse for his contribution and leadership in the Folk Music Community of Montreal. In addition to writing for this magazine, Mike is the producer-writer and host of the "Folk Roots/Folk Branches" radio program and has been involved in folk music as a promoter and artist manager along with running the Golem
Coffeehouse in the '70s and being a part of the artistic committee for the Champlain Valley Folk Festival. Kudos, Mike!
Other honorees of the Yellow Door Awards were Jesse Winchester and Penny Rose for their contributions to Montreal's folk scene. The awards ceremony was a part of the Yellow Door's 35th anniversary celebration. Following the awards was a concert featuring performances from Jesse, Eric Andersen, Scarlett, Washington, and Whiteley, Daisy DeBolt, Matapat and others. The Yellow Door is online at <www.yellowdoor.org>.
On February 26, Native American label Canyon Records received a Gold Record for Carlos Nakai's 1987 Earth Spirit. This is not only the second record to go gold for Nakai and Canyon, but also the second for any Native American album. Nakai, a pioneer of contemporary Native music and a flute virtuoso, has recorded over 30 albums in his nearly twenty year career. For more info on Carlos or Canyon, go to <www.canyonrecords.com>.
We're pleased to pass along the news that our late and beloved friend Dave Van Ronk will be honored by having a street named after him in Greenwich Village, the community that he made his home for more than 40 years. "Dave Van Ronk Street" will encompass the block of Sheridan Square on which Dave, a life-time New Yorker, lived.
Camilla Hardmeyer passed on to us the unfortunate news that Cultural Heritage Choir artistic director Linda Tillery was forced to stop performing and touring due to medical challenges. Carpal Tunnel Syndrome, Spinal Stenosis and Arthritis have left Linda with no means of income. Any person or persons who would like to make financial contributions in support of Linda may do so by sending a contribution to Linda Tillery, P.O. Box 11195 / Oakland, CA 94611. You can contact her friend and assistant Camilla at 510-531-5320 or <callcamila@aol.com>.
This Winter, singer-songwriter Mary McCaslin became seriously ill with pneumonia. We're glad to report that she has recovered and is back on the road, but the medical expenses and loss of income have left their mark. But the folk community has responded. On May 12, Vance Gilbert, Lui Collins and Gail Rundlett performed at a benefit concert for Mary at St. John's Methodist Church in Watertown, Mass. Anyone wishing to further help Mary may send a check and SASE to: Alex Liazos, 11 Otis Street, Watertown MA 02472. All checks should be made out to "Mary McCaslin." You can learn more about Mary McCaslin and her music at <www.marymccaslin.com>.
Songwriter and sometimes-Holy Modal Rounder, Michael Hurley had a hand in a recent Oscar win. His song "I Paint A Design" was featured in the Academy Award winner for best short subject "The Accountant." Congrats Michael! (See last issue for a transcription of Michael's "I Make A Wish For A Potato.")
The Songwriters' Association of Washington has announced August 12, 2002 as the deadline for its 19th annual Mid-Atlantic Song Contest. Sponsored by SAW, BMI, Oasis Duplication, Omega Recording Studios, TAXI and Writer's Digest Books, the contest offers ten entry categories and a wide variety of cash and gift prizes. For contest rules and regulations, or to enter, call 800-218-5996 or go to <www.saw.org>.
This has been quite a year for Rounder Recording Artists Alison Krauss + Union Station. Not only did they receive three Grammy Awards, but now their CD New Favorite has been certified as a Gold Record. Alison has also been named the all-time top female country artist for Grammy Awards, with a total of 13--only two behind overall female leader Aretha Franklin. Congratulations!
The Washington Area Music Awards were presented February 24 at the State Theatre in Falls Church, VA. The greater folk community was well-represented at the awards with winners including: Bill Kirchen--Song, Artist, Album, Record Design and Musician of the Year; Hazel Dickens--Bluegrass and Trad Folk Female Vocalist; Dudley Connell--Bluegrass Male Vocalist; Seldom Scene--Bluegrass Group; John Jackson--Blues Male Vocalist; John Cephas and Phil Wiggins--Blues Duo; Ray Kaminsky--Blues Recording; Tom Paxton--Children's and Trad Folk Male Vocalist, Trad Folk Recording with Anne Hills; Cathy Fink and Marcy Marxer--Children's Female Vocalist, Duo, Instrumentalist, Recording; Lisa Moscatiello--Contemporary Folk Female Vocalist; Cletus Kennelly--Contemporary Folk Male Vocalist; Eddie From Ohio--Contemporary Folk Group, Recording; Pete Kennedy--Contemporary Folk Instrumentalist; Magpie--Trad Folk Duo; Franklin Taggart--Trad Folk instrumentalist; Brooke McLoughlin--Celtic Female Vocalist; Seamus Kennedy--Celtic Male Vocalist; Celtic Thunder--Celtic group; Al Petteway--Celtic instrumentalist; Bernice Reagon and Sweet Honey in the Rock--Gospel Vocalist, Group; and Jaqui MacMillan--World Female Vocalist. For a complete listing of winners, please visit <www.wamadc.com>.
The Association For Independent Music (AFIM) presented its 30th Anniversary Indie Awards on March 11th in San Francisco. The winners included: Maria Muldaur--Acoustic Blues; Pierre Bensusan--Acoustic Instrumental; Rodney Crowell--Americana; Dolly Parton--Bluegrass; Lunasa--Celtic/British Isles; Cathy Fink and Marcy Marxer with Brave Combo--Children's Music; Trout Fishing In America--Children's Music; Loudon Wainwright III--Contemporary Folk; Baaba Maal--Contemporary World; Shaver--Country; The Campbell Brothers--Gospel; American Roots Music--Historical; Lucy Kaplansky--Pop; John Hartford--Traditional Folk; and Lalezar--Traditional World. You can see a list of all the winners at <www.afim.org>. Congrats to all!
Hospice VNH Records has released the second volume of Before Their Time, a compilation of songs by various artists, written and performed in memory of people who died young. Released March 15, the album contains songs by Rachel Bissex, Kate Rusby, Slaid Cleaves, Ellis Paul, Malcolm Dalglish, Jez Lowe and Eva Cassidy. The full net revenue from sales benefits Hospice and suicide-prevention organizations. You can visit <www.beforetheirtime.org> for more information about the project.
Winners of this year's WAMI (Wisconsin Area Music Industry) awards included: Johnny Rawls--Blues; David "HB" Drake--Folk; Art Stevenson and High Water--Bluegrass; and Kojo--World/Ethnic. Congratulations! WAMI promotes the Wisconsin music scene and provides scholarships and music education opportunities, to find out more you can check out