Celebrated, controversial & influential 30 years of hip-hop music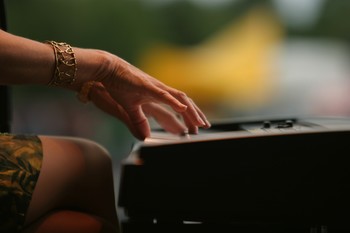 IT'S been called the Black folks CNN, a music form and lifestyle that has informed, entertained and impacted virtually every aspect of African-American life and American culture. And as hip-hop continues to celebrate its 30-plus years, many are reflecting on its remarkable history, improbable rise and unpredictable future.
Often times celebrated, sometimes controversial, undeniably influential, there is no doubt that the $4 billion-a-year hip-hop industry is an artistic phenomenon the likes of which has never been seen. An attitude borne out of music, hip-hop has moved from the basements of the South Bronx to the suburbs of America, and to some of the world's farthest nooks and crannies.
Today, it is estimated that two out of every 10 records sold in America is hip-hop, with 80 percent of its customers being White. Poised to overtake R&B in annual sales, hip-hop is being celebrated in museums, studied at universities, honored at awards shows and imitated by teenagers as far away as Germany, Japan and Africa.
Surely Jamaican immigrant Kool Herc, generally considered to be the originator of hip-hop music, never envisioned what he was giving birth to when he took to the streets of New York City looking to spread a sound popular in his homeland. It was Herc--although early practitioners like Grand Master Flash, D.J. Hollywood and Afrika Bambaataa are also considered among the hip-hop pioneers--who is credited with being the first DJ to mix the same record back and forth, using the turntable as a musical instrument. He also took to the microphone using in-group references, and call-and-response techniques that became widely popular in New York City.
"Herc, Grandmaster Flash and Afrika Bambaataa were all peers of one another and were all playing records in different parts of Harlem and the Bronx" says Nelson George, music critic and author of the newly revised book Hip Hop America. "Their way of hearing music and the records they played all defined what hip-hop was."
In 1978, DJ Grand Wizard Theodore introduced the technique of scratching to produce rhythmic patterns. A year later, the first two rap songs--"King Tim III (Personality Jock)," by the Fatback Band, and the Sugarhill Gang's "Rapper's Delight"--were recorded for mass distribution. In 1982, Afrika Bambaataa's "Planet Rock" became the first rap record to use synthesizers and an electronic drum machine. With this recording, rap artists began to create their own music rather than solely sampling the work of others.
While the use of samples initially brought into question the ownership of sound, it eventually led to a system whereby most artists requested permission and negotiated some form of compensation for the use of samples. One positive effect of sampling was a newfound sense of musical history among Black youth. Earlier artists such as James Brown and George Clinton were celebrated as cultural heroes and their older recordings were reissued and re-popularized.
During the mid-1980s, hip-hop moved from the fringes of Black culture to the mainstream of the American music industry. Whether it was break-dancing, talking slang or mastering the art of graffiti, hip-hop culture transcended music and became evident in dance, speech, dress and artistic expression. Even the sports world felt the impact of hip-hop, as Kurtis Blow rapped about basketball being his favorite sport.
Hip-hop artists began to tour the country with concerts like "The FreshFest Tour." In 1986, Run-D.M.C., with the song "Walk This Way," became one of the first hip-hop groups to be featured regularly on MTV. Also during the mid-1980s, Salt-N-Pepa became the first female hip-hop group to make a mainstream splash, alongside other artists like Heavy D, Kool Moe Dee, and LL Cool J.
"By the late '80s, hip-hop really started taking off, and it became obvious that it wasn't going anywhere," George says. "Run-D.M.C. had already broken through, then you had people like Big Daddy Kane and Will Smith with major records. The West Coast was emerging with Young MC and Tone Loc. In Miami, you had 2 Live Crew. Before you knew it, hip-hop was a movement."
During this time, a large segment of hip-hop became highly politicized, resulting in what some considered the biggest social agenda in music since the 1960s'urban folk movement. Groups like Eric B. and Rakim, and Public Enemy, with songs like "Fight the Power," came to prominence.
In conjunction with the rise of political rap came the introduction of gangsta rap, which depicted a lifestyle of sex, drugs and violence in inner-city America like no music had ever done. In 1988, the first major gangsta rap album--Straight Outta Compton by the group N.W.A.--was released. Songs from the album generated controversy for its violent lyrics, prompting protests from a number of organizations, and even garnering attention from the FBI. The shooting deaths of hip-hop artists Notorious B.I.G. and Tupac Shakur, and attempts to censor the explicit music only served to make it more appealing to youth, with artists like Dr. Dre, Snoop Doggy Dogg, Ice Cube and Ice-T growing in popularity. "It was just one segment of hip-hop," George says. "During the time when gangsta rap was big, you had artists like Hammer, who sold 11 million records. So while gangsta rap expanded the audience, it was just part of the tapestry."
In the 1990s, there was a native-tongue movement with De La Soul, A Tribe Called Quest, the Fugees and Queen Latifah ushering in a more eclectic, artistic and poetic period. It was also during this time that the hip-hop industry created wealthy Black CEOs like Russell Simmons. "If it weren't for Russell Simmons, I wouldn't be in the game," Bad Boy Entertainment CEO Sean (P. Diddy) Combs said in a 2001 EBONY interview. "He gave the blueprint for hip-hop ... He taught us that you can go out there, get your money and be yourself, and you don't have to put on your tap-dancing shoes."
In addition to Combs, CEOs like Master P, Jermaine Dupri and Damon Dash have followed in Simmons' footsteps. During the same time Blacks were making inroads into the business world. Artists like Queen Latifah, LL Cool J, Will Smith, Ice-T and Ice Cube transformed hip-hop beginnings into multimillion-dollar acting careers. Even kids like Lil' Bow Wow and the pre-teen duo Kris Kross got into the act.
Today, artists from cities like Chicago, Houston, Miami, St. Louis, Philadelphia and Oakland have emerged, as well as a host of artists from the South. With any type of musical beat considered fair game, hip-hop artists borrow sounds from such sources as Israeli folk music, bebop jazz records, and television news broadcasts, and take their subject matter from a wide variety of topics. "There are a lot of reports out of Iraq about soldiers rhyming outside the barracks about the war," George says. "There is a whole community of MCs who are developing out of the GIs there. In a year or two, when some of these guys come home, it will be interesting to see how many of them are going to make rhymes about the war."
Last year, hip-hop came full circle as the music once cast aside as mere noise earned the country's highest honor with the hip-hop duo Outkast garnering a Grammy for Album of the Year, the first hip-hop album to win the award.
Hip-hop advocates say the music creates self-pride, self-help, and self-improvement among Blacks, a message that is largely absent from other American institutions. Many hip-hop enthusiasts assert that the music accurately portrays life in inner-city America, serving as a voice for a community without access to the mainstream media. Critics, however, say much of the music and culture glorify violence and misogyny (hatred of women). "People have things, good and bad, to say about hip-hop," George says. "But no one could have imagined that hip-hop would dominate commercials, TV shows, movies, clothing lines, magazines and on and on and on. It has become an economic force in the Black community. It has created a lot of jobs, and created a lot of people with a lot of influence. It really is stunning. There was no concept of that at all. As a global movement, it is still incredibly powerful, and it still hasn't peaked."